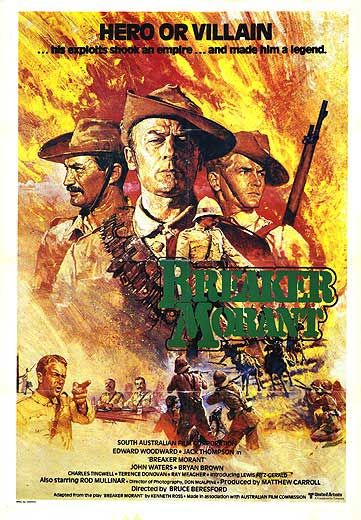 Quote:
At the turn of the twentieth century, three Australian army lieutenants are court-martialed for alleged war crimes committed while fighting in South Africa. With no time to prepare, an Australian major, appointed as defense attorney, must prove that they were just following orders and are being made into political pawns by the British imperial command
--------------------------------------
Just got cuz of the B%N sale. God, I love this B&N sale for Criterion's stuff.
My introduction to Ed Woodward was... Hot Fuzz's US release. An interesting way to meet the man the first time. Anyway... I've seen this title come up several times. And Australian cinema has always interested me, the non exploitation ones... though those are fun. Gallipoli comes to mind when I think of Australian cinema during this period. Really wish that CC would get that one cuz it's really really good.
Breaker Morant is a great film. Great legal drama juxtaposed against the events that led them to the court martial. It's got a steady pace. Almost calm at times but a very serious one. You feel like you're there w/ these men and the stories around them. It doesn't feel hyper realized. These are Australian soldiers and they're men. You feel the emotions very strongly in this one and it's not too dramaticized much. They're treated like real figures, aside from being based on actual events. There is a proper exploration of the emotions involved and also the farce of the political stand for those in control w/ how this court martial was held.
It just feels real. It's something that most of the Aussie flicks I've seen, again.. out of exploitation, held. They're earnest in portrayal of people. Which adds so much to the power of their films.
I can't not recommend this film enough. It's a great 107 minutes and the pace just goes. Really solid flick w/ a now very good BD for it too.